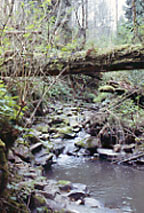 Balch Creek
February 24, 1999
Dear Tony,
I hope this missive finds you in good health and that progress on your books is satisfying. Apologies for the long silence, but life and work were a little overwhelming for a while. However, since I have decided to leave my job at the City at the end of June, I anticipate (with great pleasure) a more relaxed schedule in the foreseeable future.
My parents have yet to move from Ossining to Portland, although it can't be too much longer -- they have signed a contract to sell their house there. The little bungalow they bought in October sits empty waiting for them. It's a cheerful, darling little house, and I hope they'll be very happy once they finally arrive.
It's certainly a fine location, only a block from one of the most frequent bus lines in Portland, three blocks from a large urban wilderness park, four blocks from the post office and grocery coop, and just three-and-a-half blocks from where I live with my husband and two teenage children. Three-and-a-half blocks might not be far enough apart after twenty-eight years of living separated by most of the continent, but my folks are at the bottom of a hill and we are at the top, and I doubt they will walk up as often as we will walk down.
Northwest Portland is the smallest district of Portland proper, which is lopsidedly divided into "quintrants" (is there such a word? I'm too lazy to look. The only other way to describe it is five quadrants.) Addresses in Portland are either NW, SW, SE, NE or N (North), with Burnside St. as the baseline dividing north and south, and the Willamette River dividing east and west. The Willamette flows generally north through Portland to join the mighty Columbia River. Through downtown Portland it flows about north by north/northeast, then takes a hard bend and flows northwest to the confluence (why isn't "to conflue" a verb, by the way?). So Northwest Portland is truncated, and all the contiguous area to the west of NE that would be NW if the river had only run due north is called North Portland.
To the west, Portland is bounded by the great batholith of the Tualatin Mountains. The Willamette runs up against these steep 1200-foot-high hills by the time it reaches the Columbia. Northwest Portland, shoehorned into this triangle between the river and the hills, is thus by far the tiniest of Portland's districts. Most of its streets belong to the "alphabet grid," with numbered avenues running north/south and the east/west streets named in alphabetical order. Burnside is the "B," I live sixteen blocks to the north on Raleigh.
South of us, close into downtown, the West Hills are developed with houses for the well-to-do, but west of where we are the hills are part of Forest Park, the only wilderness park inside a city boundary in the US that is connected to a "wilderness reservoir." Beyond the city boundary the hills continue along the Columbia all the way to the Coast Range, with an uninterrupted wilderness corridor that allows elk, deer, bear, coyote and even the occasional cougar to range within three miles of downtown Portland. Logging and gravel mining constantly threaten the integrity of the wild corridor, but just recently Metro (our regional government) was able to acquire some important pieces to add to Forest Park.
Our house is in a rather remarkable place, at a corner of the alphabet grid that rides up a little ways onto the mountain. Raleigh Street dead ends with our block at the edge of the Balch Creek Canyon. Three years ago the end of our street and much of the two lots on either side fell off into the canyon during a week when Portland experienced 130 landslides around the city. Our house is now the second to the end instead of the third; FEMA gave the City a grant to purchase the two homes that were destroyed, and they have since been demolished. Our next door neighbors built a massive retaining wall to save their house. The ground under the houses in the West Hills is not terribly stable, and much of it is very steep, which is why landslides are such a problem. (There are fascinating underground watercourses and springs, too. When we first moved into our house, we decided to wash the basement floor. There were numerous cracks, and we washed the dirt down them. We discovered we could keep the hose running and the water would just keep flowing away. When we had been running the water for awhile a salamander popped up out of one of the cracks.)
The rear windows of our house command a view of Mt. St. Helens and Mt. Rainier, and, closer to home, the Northwest Industrial Area, once a great wetland and heron rookery called Guilds (to rhyme with Child's) Lake. At the turn of the last century, the lake was filled in with the sediment from terracing the hills around and above our house. The terracing was a major ecological change. First the primeval forest of Douglas Fir and Western Red Cedar was logged off, then a sluice was built to bring water from the streams up in Forest Park, and the water was used to shape the land to be better suited for development. It is a much repeated bit of neighborhood apocrypha that pieces of the sluice are can still be seen along some Forest Park trails, although I confess I've never found them myself. A century of revegetation goes a long way to erasing the sins of the past, but contemporary photographs show what an unbelievably ugly gash on the hills the development was at the time.
The Guilds Lake area eventually became an industrial sanctuary, but first it had a glorious day as the site of the Lewis and Clark Centennial Exposition in 1905. Plans are underway now in Portland for the bicentennial in 2005.
Our house was built in 1911, the fourth house to be built on the block. Sidewalks were poured in 1912; the date is stamped in front of our house. There are rings in the curb to tie horses to. My parents bungalow wasn't built until 1941. Part of its charm is that it is right at the transition to the modern from the moderne. It has large corner windows and no roof overhang (I didn't care for that at first, but it does make it very light inside, not to be disdained in this climate). There are all kinds of well-crafted details in the interior finish work ­ coved ceilings and picture mold, an unusual corner detail for the shoe mold. Within a decade, that kind of detail in homebuilding would be surrendered to the stark economy of modern construction.
The bus that stops one block from their house, the #15, is the descendant of the horsedrawn streetcar that served our neighborhood a century ago. Just down the street from their house is the old trolley barn, which two or three years ago was converted to condominiums. (Catty corner from this building is the architect's office where I worked for four years before I went to work for the City of Portland.) At the time of the Lewis and Clark Centennial Exposition, a bridge was built extending Thurman Street (the "T" of the alphabet grid) over the Balch Creek Canyon and the streetcar was extended into "Willamette Heights," opening another new neighborhood for development.
Balch Creek was the original source of drinking water for the City of Portland in its infancy, but the population soon outgrew that source and in the 1890s (if I remember right) the Bull Run watershed in the foothills of Mt Hood was designated and protected to serve Portland's water needs. We still drink Bull Run water today, although there is bitter debate about whether the Forest Service has allowed too much logging in the watershed, and everyone knows there will have to be some other source if the region keeps growing as it has. No one wants to drink the Willamette, which in the 1960's was one of the most polluted rivers in America. It's better now, but we still have CSO's (combined sewer overflows) when it rains hard ­ our sanitary and storm sewers were combined as a matter of course until about the 1950's, and retrofitting that system is turning out to be a very expensive proposition indeed. So when we have a good hard rain in Portland, turds float in the Willamette.
Balch Creek is home to native cutthroat trout. They are completely isolated, because right below the Thurman Street bridge, the creek flows into a huge pipe that carries it under the industrial area for a couple of miles to reach the Willamette. Occasionally there is talk of daylighting the buried streams of Portland -- almost all the streams on the east side are underground. There is a trail that follows wild Balch Creek up into the canyon, through a piece of Forest Park called Macleay Park. It is the Wildwood Trail, one of the loveliest trails in Portland, and also one of the most used. It takes you past old growth Doug fir three feet in diameter in some places, although one of my favorite trees came down in a storm two years ago. Unleashed dogs are a problem along this trail; they are hard on the trout and the landscape.
When Scott and I married and moved to Portland from Ithaca in 1976 we lived for a year in a cottage on the creek, three miles upstream from where we live now. In those days we had no car (for ten years we had no car) and our first idea, arriving in Beaverton so Scott could take up his employment designing oscilloscopes, was to find a place near his work. The choices were discouraging. Beaverton, just over the hill from Portland, was then -- and is still today -- an automobile-dominated landscape. (Ironically it began its urban life as a tiny suburb clustered around the interurban rail station, and the good bones of that downtown are still there. With our brand new light rail line running through it today, perhaps there is hope for Beaverton's future.)
Somebody told us to check out Northwest Portland, so I looked in the paper under that heading and my eye was caught by this ad: "Cozy cottage in the woods, creek, garden, $225/mo." We drove the Ryder truck to visit, fell in love, and instead of moving into bustling Northwest we moved into the woods far from everything ­ not far as the crow flies, but far without a car, without bus service. Scott would ride off on his bike to work every day, and I stayed on Balch Creek watching the unfamiliar Oregon wildflowers come up, reading Annie Dillard and trying to write short stories. I was 23 and believed I had a wealth of experience to draw on, but when I did not win the Redbook young writers contest I gave it up and decided to become an architect.
Once a week I would prepare bread dough and leave it to rise while I rode my bicycle down Cornell Road into Portland to do our laundry and buy our groceries. I hauled them back in a granny cart strapped to my bike. Often I rewarded myself for my efforts with a stop at Baskin and Robbins ice cream parlor, and it wasn't long before I became good friends with the young woman who worked there. Her name was Mary, but she was known to everyone as Peaches. Three years later she went off to work at a national monument in Arizona and after a desultory correspondence we fell out of touch. Last year I was in a grocery store in Southwest Portland, passing the time of my daughter's trumpet lesson with a little grocery shopping, and I ran smack into Peaches. She lives in Portland now and has two children just a little younger than mine. We have been having lunch every other month ever since. It is a great delight to me to rekindle a connection I thought was lost.
Scott and I lived up on the creek for a year, and then the woman who owned our little cottage decided she would like to live in it herself. Lovely as it was, our sojourn in the woods taught me that I am a city girl at heart, so we packed up and moved into Portland. We gave a lot of consideration to where it would be most convenient to live, and we ended up in a triplex just across the street from the bungalow my folks are moving to twenty-two years later. We stayed there for two years, and then went off to Ann Arbor so I could go to architecture school, and when we came back to Portland in 1984 we bought this house.
The trouble with a narrative of this sort is knowing when to bring it to a close; I am clearly not experienced enough to do it gracefully. The hour is late and I am afraid such a long rambling post is an imposition, all the more so because I have allowed such a lapse since I last wrote. I have not (until now, she said disingenuously) touched on our neighborhood politics, or the traffic calming projects I helped bring about, or the fascinating gentrification of our neighborhood shopping district, and how all those forces helped to shape me as a radical pedestrian. Let us save those for your visit to Portland, someday.
Affectionately,
-Ellen