Ellen Vanderslice, A.I.A., is a Portland, Oregon, architect and urban designer who retired in 2012 from the City of Portland, where she was a project manager at the Bureau of Transportation.
Project Management
Ms. Vanderslice is skilled in bringing people together to move projects forward, whether through public process or complex technical teamwork. In addition to the experience of managing challenging projects of all sizes, she has profited from training under such project management experts as Wynnlee Crisp.

Active Transportation Planning and Design
Ms. Vanderslice has extensive experience in planning and design for active transportation. As a capital projects manager for the Portland Bureau of Transportation from 2003 to 2012, she served as the project manager for the Portland Bicycle Plan for 2030 as well as for East Portland in Motion, a five-year strategy for implementing active transportation projects east of 82nd Avenue in Portland. She managed the North Williams Traffic Operations Safety Project through the selection of recommended alternative. Past projects include the N. Killingsworth and N. Russell Street Improvements Planning Project for the City of Portland, where she acted as Project Manager for the consultant team of Nevue Ngan Associates, Ellen Vanderslice Architect and Parametrix, Inc., and the St. Johns Town Center and Lombard Main Street Plan, with Lennertz Coyle & Associates. She served on the consultant teams for the Kelowna, British Columbia, Pedestrian Master Plan project; the Salem, Oregon, Sidewalk Construction and Maintenance Plan; and the Washington County, Oregon, Transportation System Plan update. While serving on the staff of Portland's Pedestrian Transportation Program from 1994 to 1999, Ms. Vanderslice was project manager for the award-winning Portland Pedestrian Master Plan and Pedestrian Design Guide, and the Barbur Boulevard Streetscape Plan.

Background
Ms. Vanderslice is a graduate of the University of Michigan College of Architecture and Urban Planning (now Taubman College), where she received the Master of Architecture with high distinction in 1983. She has served on numerous boards and committees. In May, 2000, she was named Woman of the Year by the Portland Chapter of the Women's Transportation Seminar (WTS Portland) for her "outstanding leadership and professionalism in advocating for pedestrian needs in community and transportation plans, projects and policies."
Ms. Vanderslice has also been active in the area of affordable housing. During her tenure at David R. Giulietti, Architect (now Giulietti Schouten Weber Architects), she was project designer for two award-winning affordable housing projects. She co-chaired the AIA Portland Housing Committee from 1995 to 1997. In 2020 she is working to develop a four-unit apartment building for families transitioning from homelessness on a vacant site in the Lents neighborhood of Portland.
Ms. Vanderslice enjoys a concomitant career as a music publisher, jazz composer and vocalist, and has released seven compact discs featuring her music, along with three digital EPs.

Pedestrian Advocacy
Ms. Vanderslice has been a transportation reform activist for more than thirty-five years, with first-hand experience of bicycle and transit issues in addition to a deep interest in walking. She is a founder and past president of America Walks, a national non-profit coalition of local pedestrian advocacy groups. She also helped found Oregon Walks, a local advocacy group in the Portland region, and in 1994 coordinated the first series of "Pedestrian Actions" in Portland to educate motorists about pedestrian rights. She currently serves on the board of the Walk21 international conference on walking and was a vice-president of the International Federation of Pedestrians until October, 2015.

Speaking Out
Since 1994, Ms. Vanderslice has been a featured speaker on walking issues at more than two dozen conferences and events across the United States and around the world. She was a keynote speaker at the Walk21 International Walking Conferences in London, U.K. in February 2000 and Perth, Australia, in February 2001, and presented at the Walk21 International Walking Conferences in San Sebastián, Spain, in May, 2002, in Zürich, Switzerland, in September 2005, in Vancouver, BC, in 2011, and in Vienna, Austria, in 2015. She was conference chair for Walk21 IV, the 4th International Conference on Walking in the 21st Century, held in Portland, Oregon, May 1-3, 2003.
Service

Ellen Vanderslice
503-803-6351 (cell)
ellen@ellenvanderslice.com
honors
service


Vanderslice with Jean Senechal Biggs(second from right) and Bill Hoffman (not pictured), receiving the Places Planning Award from EDRA, the Environmental Design Research Association for the Portland Pedestrian Master Plan and Design Guide, May 2000.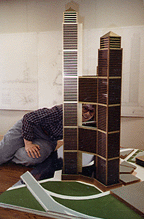 With her thesis project for the Master of Architecture, a skyscraper for Detroit, 1983.


Two attached houses were designed to fit in a predominantly single-family neighborhood in this award-winning project for the Nehemiah Housing Opportunity Program in Portland.


Ellen Vanderslice speaks at the International Walking Conference in London, February 2000.