The Plaza Trail in the Salmon Huckleberry Wilderness
Sunday, November 10, 2002
Scott, Ellen and Emily went with Adam and James to check out access
to the Salmon Huckleberry Wilderness from forest roads off the Clackamas
River Highway. We were looking for the Plaza Trail, #783, off Forest Road
4610. It was a little trickier finding it than we thought, plus we'd gotten a late
start (as often happens) so it was late in the day when we finally found
the trailhead, and, to our surpise, it was under several inches of snow.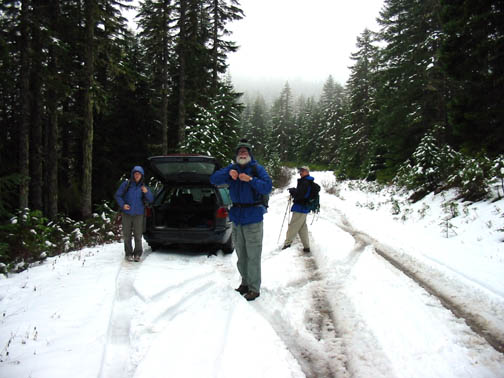 Here are Emily, Scott and James getting ready to go.
Adam is changing into wool socks in the car.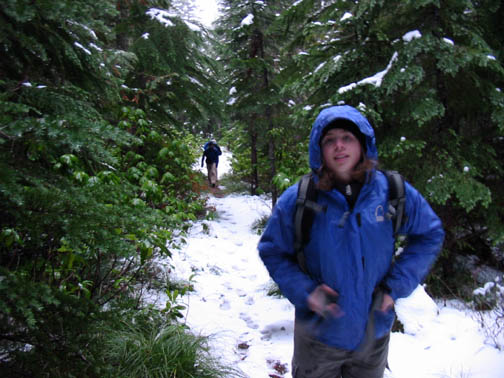 It was supposed to be only about a mile and a half on this trail to an overlook,
but the snow on the ground and the rain in the air made the going a little rougher
than we had anticipated. Both Adam and Emily had worn athletic shoes, and it
wasn't long before their feet were too wet and cold to go on. Heeding their 'bootless cries,'
we sent them back to the car to bemoan their outcast state while we booted ones persevered.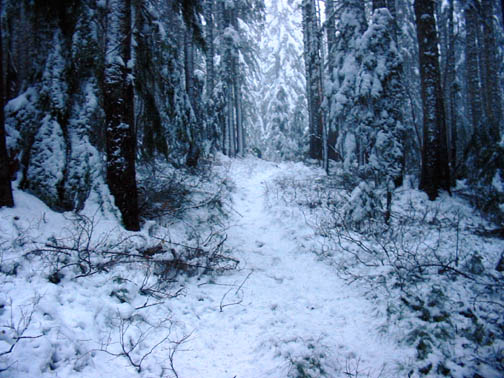 That speck of blue at the top of the trail is James. We had agreed to turn around
at 4:15 p.m., about four minutes after this photo was taken. When we got back to
the car Emily asked if we made it to our destination, and Scott said our destination
had made it to us. We'll go back another time when the odds of actually
seeing something from the lookout are more propitious.


Adventures Index
info@ellenvanderslice.com